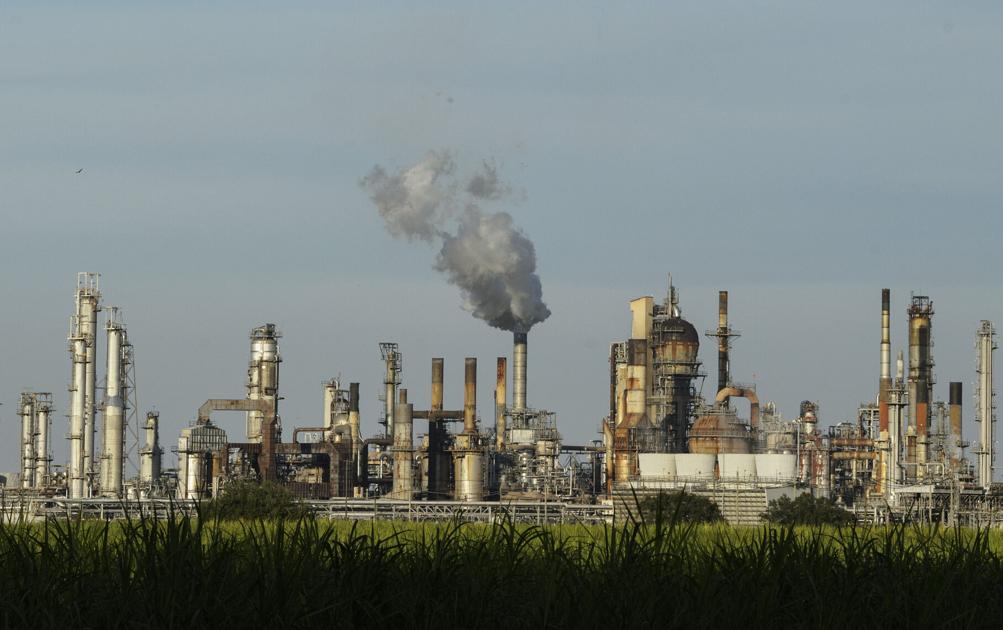 Jim Mitchell, a top St. James Parish public school official, says Shell Oil Co.'s decision this week to close its Convent refinery is akin to a staggering uppercut to the head from onetime heavyweight boxing champ Mike Tyson.
"We're still in the process of getting our vision back," said Mitchell, the school system's chief financial officer.
Mitchell spoke Thursday, shortly after Shell said it would start shutting down the refinery this month. He met with School Superintendent Ed Cancienne Jr. and another finance official to take a first look at what the loss of the refinery's direct tax payments and hefty employment would mean for the public system, which has 3,600 students and 600 full-time employees.
Local officials said the 53-year-old refinery could close by the end of the year. All product inventories will be removed or sold off, with no hazardous raw materials left on-site once the shutdown is finished, local officials said Shell told them.
Sheriff Willy Martin said Shell's employees will remain on the Convent site payroll until February. Meanwhile, the company would attempt to find jobs for them at its Norco and Geismar sites after a voluntary severance program starts up at those operations. 
Shell's Convent oil refinery is St. James' largest taxpayer, its largest employer and a bedrock of the Mississippi River parish's industrial base that has employed generations of its residents.
Sheriff Martin said the complex generates a total of $24 million per year in property, inventory and sales taxes for local governments: about $5 million in sales tax and $19 million in property and inventory taxes.
"So that's quit a bit of impact on our local economy," said Martin, whose office collects about $4 million in property and inventory tax from Shell.
The impact on each agency that receives tax revenue from Shell will vary, based on revenue each receives from other sources.
The plant employs 700 direct employees and 400 additional contractors whose salaries also contribute to the economy. The complex also supports an array of smaller businesses that feed its workers, fuel their trucks and supply equipment and services.
Though St. James has many other industrial facilities and is line for new expansions, the next-closest employer to the Shell refinery's 700 direct employees in 2019 was the School Board's 600 workers, school audits say.
The School Board alone pulls in $8.7 million in property and inventory tax revenue from Shell, which was about 18% of the system's total revenue in 2019 even before the sales taxes.
Earlier Thursday, Parish President Pete Dufresne joined Martin and Assessor Glenn Waguespack for a news conference on the closure. The first-term president said that while he was hopeful the refinery could be repurposed, the parish would have to start looking at its budget.
"We're gonna have to start reallocating our budget, and we're gonna have to start preparing for the significant decrease in our revenue," he said. "I mean just like any other business, we can't spend money we don't have."
Dufresne said the parish would have consider the services it provides, prioritize them and consider which ones to discontinue first. He didn't specifically discuss job cuts at parish government.
Shell kicks in $6.7 million in property and inventory tax to the parish's annual budget.
In an interview, School Superintendent Cancienne said top administrators, Assessor Waguespack and others plan to meet with the School Board's Finance Committee at 4 p.m. Tuesday in Lutcher to address the impact of Shell's closure.
When asked whether the revenue loss could require a reduction in force or other severe measures in the school system, he declined to comment at this time. 
Cancienne said the School Board has already adopted its budget for this year but officials would be "realistic and start some serious planning" in close consultation with the board.
"Everything will be put on the table," he said. "We'll have to be creative."
Property tax bills typically go out at the end of the year. Both Martin and Cancienne said Shell officials left indications they would try to soften the blow of their departure, including by honoring their 2020 taxes this year.
Cancienne said he didn't receive a direct statement from Shell officials that they would pay the 2020 bill but that they would be "true and honor all of our commitments to the St. James Parish School Board."
He added that still leaves big questions for 2021.